90 Day Fiance Couple Paul Staehle and Karine Martins were shown at divorce on 90 Day Fiance: The Other Way, so Karine continued with her plans to divorce Paul or is the couple still married and married?
[90 Day Fiance Spoilers Warning: Please stop reading if you do not want to know if Paul Staehle and Karine Martins are still together or split and what happened after filming wrapped in the spin-off. This article also reveals in which country each person now resides].
90 Day Fiance: The Other Way is well on its way, and Paul and Karine have had a hard time together in Brazil during Karine's pregnancy.
Paul and Karine try to stay in love while they encounter obstacle after obstacle, and Paul is uncertain about where he is going to live. So has the couple overcome their problems and have they managed to stay together?
Paul and Karine, who met online and fell in love after Paul visited Karine in Brazil, got married in 2017, although the wedding was not broadcast on television the following year.
Paul and Karine managed to make their relationship work despite speaking different languages, but a translator needed to help them communicate was the least of the hardships of this couple.
For example, Karine suffered from two devastating miscarriages, one of which was documented in season 2 of 90 Day Fiance: Before the 90 Days.
She also threatened Paul with divorce because they were constantly fighting.
However, things went well when Paul and Karine announced in October 2018 that they were expecting a baby. That same month, Paul revealed that Karine was pregnant with a baby boy.
At the premiere of 90 Day Fiance: The Other Way, Paul, 35 at the time, explained that he had done odd jobs on a farm to save money for his then-pregnant wife and unborn child.
Above all, during her pregnancy Paul wanted to stand beside her, especially since the couple was afraid of a new miscarriage or a pregnancy complication.
Paul wanted Karine to give birth in the United States under the care of the best doctors, but because he didn't earn an annual income of $ 26,000 and couldn't convince his mother – or apparently someone else – to sponsor Karine, Paul realized he must move to Brazil to make his marriage a success.
Paul was frustrated that he could not support his wife and baby from the United States, so he prepared for a "huge sacrifice" and a permanent stay in Brazil.
"Wherever I go, I am torn between two worlds," Paul said in an early-season episode, referring to how difficult it was to leave his mother and friends.
"Moving to Brazil and never coming back is nerve-racking. I love my parents and my family, but I want to be with Karine and I want to be there to help raise my baby when it's born."
Karine, 23, was seven months pregnant when Paul arrived in Brazil. She had spent three months alone before his arrival and had taken English lessons to improve their communication.
Karine, however, did not feel that Paul was putting a lot of effort into learning Portuguese, working and earning money. She was afraid that Paul could not take care of his family, knowing that babies are incredibly expensive to raise.
Karine's brother Bonnie also shared with the cameras that Karine cried a lot of time in her bedroom before Paul arrived.
Bonnie did not really love Paul and considered him "an unbalanced person." Bonnie wanted Paul to learn Portuguese and said Karine's husband tended to become "a demon" from time to time.
Karine insisted that she really loved Paul, but needed him to "stop the drama", become a good father, and step on the board financially.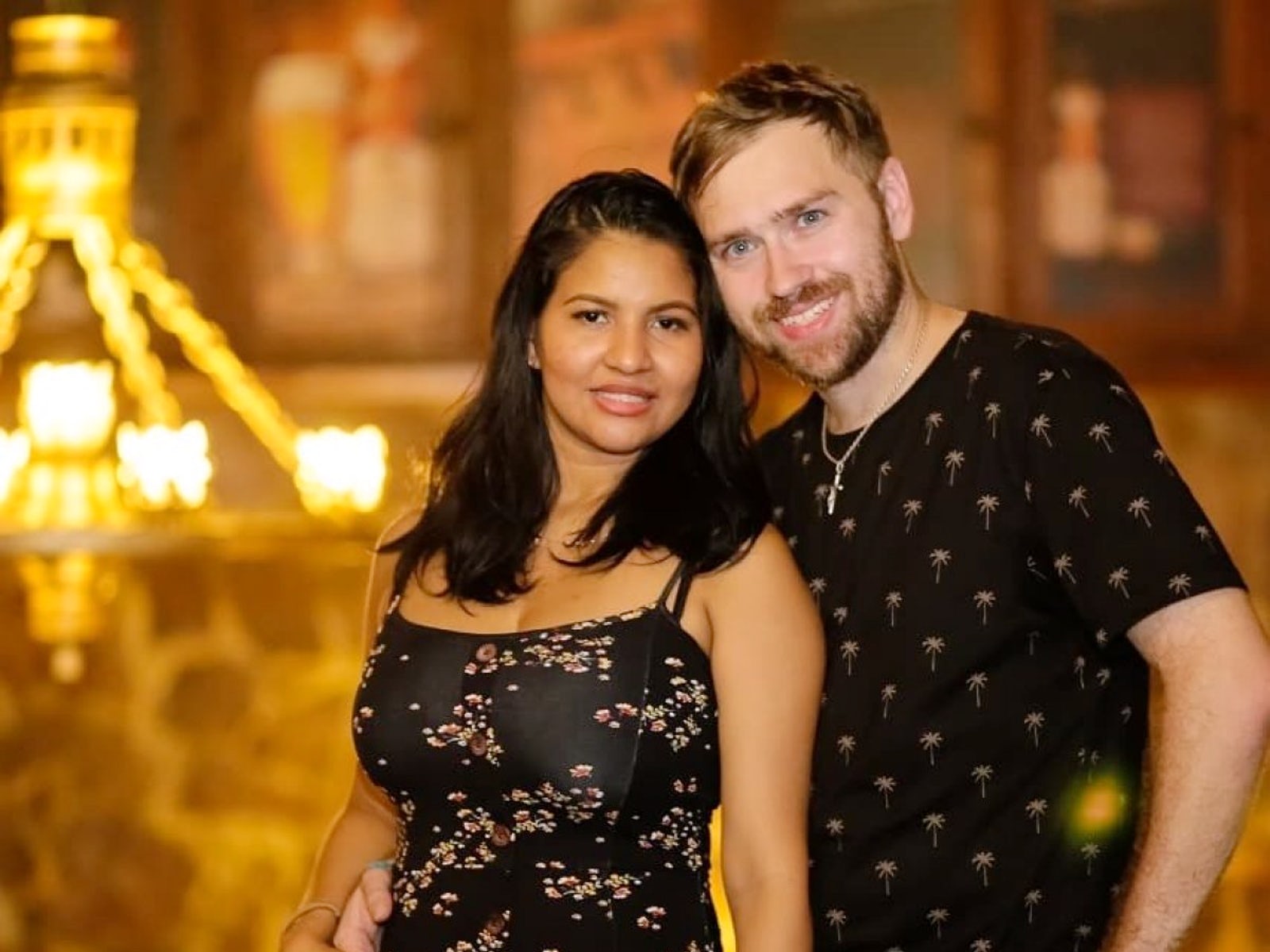 But Paul said he did everything he could for his wife and that Karine was tired of complaining.
Unfortunately for the couple, Paul later discovered that his application for permanent residence in Brazil had been denied due to his criminal record.
In a letter that Paul received, he was shocked to discover that he had been accused of committing both terrorist crimes and war crimes – and he had strongly denied all that.
"Karine will have a broken heart. She will just be shocked. I only have 10 days to deal with this and then I have to leave the country," Paul said in a confessional.
"I don't want to cause unnecessary drama and then cause her stress and cause problems with the baby. I don't know what to do right now. I really don't know."
Paul was furious and met a lawyer who could translate the Portuguese letter for him and hopefully get to the bottom of it.
The lawyer told Paul that his residence had been refused because he had been accused of "third-degree terrorist threat."
"Ohh, that's a crime. I was accused of threatening someone to leak their tires," Paul explained.
Paul told the cameras that he came home 13 years ago from work and discovered that his girlfriend was in with another man. Paul therefore threatened to tear the man's ties and "made some angry remarks."
The lawyer said that he and Paul had to explain to federal police officers that what Paul had been charged in the United States was not a terrorist attack, but rather a normal looming indictment.
Paul asked what his options were, and the lawyer said it would take a lot of work to appeal and ultimately change the decision.
Paul was shocked because he thought there was a chance that he would be refused his arson – but not a terrorist threat.
Paul ventured over how his wife was pregnant in Brazil, but he was not allowed to stay there or move to the United States.
The lawyer predicted that it could take a week, a month or maybe even a year to reach a solution. Paul thought it would be "a serious waiting game" and he could only hope for the best.
When Paul told Karine the news, he might have to return to the United States, she was destroyed and worried because she didn't want to be pregnant and alone.
Karine suggested that she and Paul travel to her parents' house in Tonantins, Amazonas, so that they would have more help with the baby on his arrival.
Karine had a bladder infection back then, but doctors told her that the baby had a "perfect, strong heart".
The travel time from Karine and Paul to Tonantins was four or five days by boat. They had a private room, so Karine would be more comfortable – because most people slept in hammocks on the boat – but Paul hated the brown water and the annoying mosquitoes.
Karine couldn't help but wondered if Paul would adapt to life in Tonantins, man up and brave.
But Paul was not looking forward to living in an area surrounded by the Amazon jungle. Paul was also worried that Karine would have a complication since the nearby medical facilities were 'inferior'.
Paul and Karine planned to stay with Karine's parents until they could find their own place. Living with Karine's mother seemed Paul's only option, but it was certainly not an easy transition for the reality TV star.
Karine's mother didn't like Paul at all and even called him 'a jerk'. It didn't help Karine to complain to her mother about how Paul had not changed and he tended to be selfish.
Karine felt that Paul didn't really care when she was in pain, and she said that his stress levels eventually stressed her.
Paul then told Karine's mother and father the truth that the Brazilian federal police thought he was a terrorist and that he might be deported back to the United States.
Once Paul revealed that the government thought he was a terrorist, Karine's parents were shocked and upset. They needed Paul to address this issue immediately, but Karine said they could only trust Paul's lawyer and pray.
"When Paul has to leave, he takes my heart with me. And not just mine, but my son's," Karine told the cameras.
Paul's lawyer had appealed, but if it didn't work, he and Karine would have to maintain their relationship and raise a baby while living in different countries – something that Paul admitted would be almost impossible.
Paul was upset because his past had haunted him again.
Karine and Paul later decided to hire a real estate agent to help them find their own place.
Paul was planning to raise their baby in Tonantins, Brazil, but the possibility of being deported still loomed above his head. He still expected the outcome of the appeal that his lawyer had filed.
Karine and Paul disagreed about apartments because Karine wanted the cheaper apartment that cost $ 200 a month to rent, while Paul wanted the nicer place where they would get more than $ 1,000 a month in US dollars.
Karine told Paul that he had no job and might be deported, so they had to be careful with their money. She was annoyed that Paul should always get his way and do things his way.
Karine told Paul to go back to America, and then Paul accused her of wanting a divorce. Karine said that Paul was all about "drama, drama, drama".
"He doesn't want to change, but he has to grow up now that he's becoming a father," Karine told the cameras.
Paul said things were tense in the household of Karine's parents, especially because her mother did not like it when Paul called Karine about his worries and doubts.
Karine's mother said that Paul treated Karine badly and did not respect her by asking for a DNA test for the baby.
Paul said, however, that the embassy would require a DNA test when he asks for a child's citizenship. In the beginning Paul had questions about the fatherhood of the baby, but he no longer had those suspicions.
Karine did not believe Paul's motive for the test, but Paul insisted that it was part of the immigration process.
However, Paul began to sing another tune when he borrowed Karine's phone for the translation app and suddenly a text message appeared in which Karine spoke to an American man in English.
Paul wanted to know who the man was, but Karine just told Paul to "stop". She called the mysterious man "someone," but Paul was unable to do that. Karine later told the cameras that the man was the son of a woman who helps her by sending money.
"My relationship with him is actually like a friend or a brother. It's not as romantic as Paul thinks," Karine explained.
Paul admitted that they would have problems of trust as long as Karine continued to talk to other men, and perhaps a baby paternity test was necessary. Paul told Karine that he didn't appreciate what she was doing.
Three weeks into their new lives together in Tonantins, the couple lived by the small amount of savings that Paul had left before he flew to Brazil, but they ran out quickly.
Because Paul had not approved his permanent residence permit, Paul could not apply for a work visa. He was therefore looking for work under the table, but no one seemed to speak English and Paul could not speak Portuguese well.
Karine said that because of their baby, Paul had to look for a job and he didn't seem to worry, but Paul insisted that he do his best to support his family.
Karine was very stressed and unhappy, but Paul was tired of his wife "poking" at him.
Paul therefore left the house and counted to 10 trying to calm himself down.
Paul said he had given up everything in the United States to live with Karine in Brazil and be there for her, but he felt that nothing he ever did was "good enough" for his pregnant wife.
Paul then told Karine that the fact that she was communicating with American men in English worried him and hurt his feelings, but Karine said that Paul always accused her of cheating when they fought.
"I can't take it anymore to tell you the truth," Karine said. "Are you afraid that someone will treat me better than you?"
Paul then knocked out the door and told Karine that she should apply for divorce if she was so dissatisfied with her marriage.
Paul said that his priority was Karine and the baby, and he had done everything to prove that, but Karine was crying and saying that she was fed up with Paul scaring her and treating her badly.
In the last episode of 90 Day Fiance: The Other Way, Karine admitted that her relationship didn't work.
She and Paul had argued about Paul's intentions, so Karine looked at her mother for support and advice.
"Because I just can't take it anymore," Karine told the cameras.
Karine told her mother that she thought Paul could be a good husband and father, but she believed he was unable to change. Karine said that actions meant more than words, so she considered divorce.
Karine's mother told her she would have family to support her, and then Karine said she didn't want her son to grow up while he was seeing Paul constantly stressed and angry.
Karine did not want her child to think that this was normal behavior and that Paul might treat his son in the same way as his wife.
Karine thought about divorcing and her mother said that the sooner Paul is out of sight and out of their lives, the better it would be for everyone.
So did Paul and Karine work through their problems? Are they still together and married?
Viewers can be happy to hear that Karine and Paul are still a couple and are still married. Moreover, they seem to be very happy parents together.
The cute baby son of Paul and Karine, Pierre Martins Staehle, was born in Brazil in March.
Paul flocked to us weekly shortly after his baby was born that he is "very happy" and "very excited" to be a father.
"I am also very nervous and want to do everything I can and do everything well," Paul told us.
"Everyone keeps asking how it feels to be a father. Anyone can make a baby, but the daily process of being a father becomes a new experience. I am very happy, very honored and very privileged and I want to make sure that I do my very best for Pierre. "
And after welcoming their first child together on March 22, it looks like Karine and her son have officially moved to the United States! (In February, Paul revealed in his Instagram stories that Karine had received a CR-1 marital visa).
Karine and Paul are therefore currently living together as a couple in the United States.
In mid-June eyewitnesses took photos of Paul and Karine together at the airport in Louisville, Kentucky.
And then Karine confirmed her location by posting photos on her Instagram stories about Paul and herself visiting local attractions in Louisville.
Paul, Karine, their baby and Paul's mother all posed for a photo in front of the Louisville Zoo entrance.
Karine shared a photo of the exterior of the Hard Rock Cafe in Louisville, suggesting that the couple also visited the entertainment and shopping center in Fourth Street Live.
Paul later shared a family photo of Karine, the baby and himself during a cookout on July 4.
In recent months, the couple have posted photos of each other on Instagram stories.
Not only do they make Cameo videos together for money, but Karine also shared a few funny pictures of Paul on the couch with their son.
Paul and Karine absolutely do not hide their relationship status, as Paul's Instagram bio reads: "Married to @staehlekarine", along with an emoji of a couple and their child.
Karine's Instagram profile also has Paul in her main photo and reads "Casada com [Paul]" in her bio at the top, which means she is "married" to Paul.