KATE MIDDLETON and Prince William announced their engagement in November 2010, but it was Camilla, Duchess of Cornwall, who, according to a biographer, turned out to be an inspiration to the royal bride.
Kate, Duchess of Cambridge and Prince William are now the proud parents of Prince George, Princess Charlotte and Prince Louis. They married in their beautiful 2011 royal wedding after they first met in 2001 in college. When the Duke and Duchess of Cambridge announced their engagement in 2010, Kate Middleton turned to her future mother-in-law to guide her into her new royal life.
Biographer Andrew Morton reveals in his book "William and Catherine" a look at the romance of Kate and William behind the scenes.
M. Morton said: "To help Kate Middleton deal with the transition, William had asked courtiers to give her advice when he was working.
"He asked Sir David Manning, formerly the ambassador of Great Britain to the United States, to teach Kate about the protocol and the intricacies of royal life.
"Also at hand was Camilla, who took Kate Middleton to lunch during the engagement, and gave her a different perspective on life in the goldfish bowl."
Royal author Marcia Moody, in her book "Kate: A Biography" 2013, also writes about the relationship of Camilla and Kate, and reveals that "Camilla would make Kate Middleton cry with laughter".
Regarding Kate's engagement period, she said: "In February (2011), Kate Middleton and Pippa went for a girl's lunch with Camilla and her daughter Laura at the Koffamnn restaurant at the top hotel in London, Berkeley.
"The lunch lasted three hours. The group all laughed and joked and talked at the same time, and the waiters found it hard to get a word on the corner.
"At one point, Kate Middleton joked about the wedding buffet and said they could eat pizza, while Camilla suggested that sausages on sticks were always good."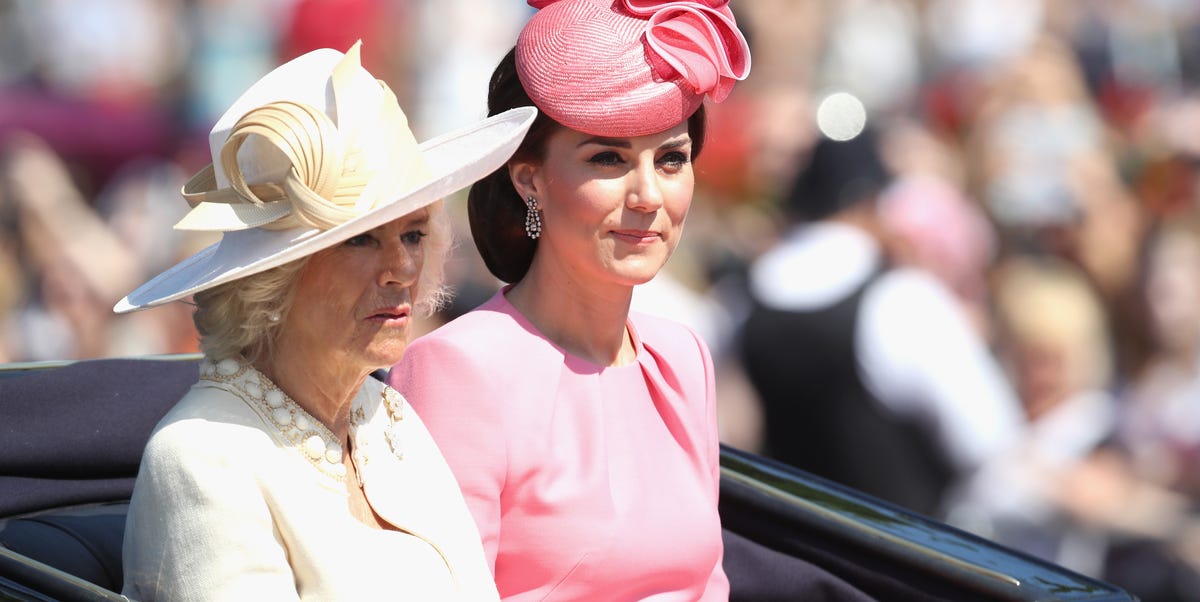 Later, at the formal wedding reception in Buckingham Palace on Kate and William's big day, the newlyweds served a range of refined snacks for their guests.
Ms. Moody adds: "For people with a simpler taste, there were also cheese straws, fish cakes and glazed chipolatas.
"When they had lunch with their girls and offered Camilla sausages on a stick, Kate Middleton had listened."
The Duchess of Cornwall was also helpful in welcoming Kate to the royal sheepfold when news of the relationship first became known.
Ms Moody also revealed the key moment that signalled her acceptance into the Royal Family.
Ms Moody said: "[Kate] was moving slowly and carefully into royal life.
"Key occasions in the royal calendar include various horse-related events, and one of the earliest in the year is the Cheltenham Gold Cup in March – a key race in the Cheltenham Festival.
"In 2006, Kate attended with a friend but was then invited into the royal box for lunch with Charles and Camilla."
Mrs. Moody then suggested that this was "because William was not there and so she was clearly accepted as one of the family."
She added: "Moreover, it was the first time she was seen in public with Charles and Camilla in a formal setting.
"She later watched the races with Camilla's children Tom and Laura Parker Bowles and William's best friend Thomas van Straubenzee."