Although she is not the first citizen to marry the British royal family, Kate Middleton is certainly one of the few who did it out of love. Before Kate, it was not uncommon for royal parents to set up their children with their worshipers, especially if they were a future monarch, such as William. And while other royal couples met and fell in love with Kate and William, there is something completely different about the love story of the duke and duchess. How did Kate meet Middleton Prince William? We share all the details about how the future king and queen (consort) of England met, plus a glimpse into the relationship between Kate Middleton and Prince William.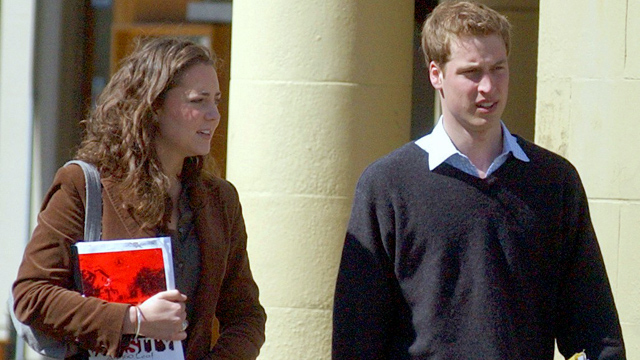 How did Kate Middleton meet Prince William?
Surprisingly, Kate Middleton met her husband in a very usual way – in college. In 2001 the two studied at the University of St. Andrews and both lived in the school's St Salvador's Hall, a dormitory near the campus quadrangle area. According to reports, Prince William fell for Kate in 2002 after seeing her in a charity show with a rather daring ensemble (it definitely went against the royal family's style rules).
Kate Middleton and Prince William's relationship
The relationship between Kate Middleton and Prince William is not as fairytale as you think. It appears that the couple experienced a few disruptions early in their relationship and even fell apart for a short period. Further on, we look at some of the most striking aspects of the relationship between the Duke and Duchess of Cambridge.
They began dating in 2003
Despite a meeting in 2001 and William was said to have fallen in love with Kate in 2002, the couple only started dating in 2003 – although at that time they kept their relationship status under control.
They lived together while in university
When the two were in St. Andrew's University in their second year, they reportedly shared an apartment. However, it is not what it seems. They also lived there with two other friends.
Kate Middleton and Prince William's relationship sparked a ton of media attention
In the early days of the relationship between Kate Middleton and Prince William, Kate used her lawyers to express her concern about the harassment she received from the media. However, that would not be the first time. Again in 2007 – around the Duchess's 25th birthday – Prince Charles, Prince William and Kate's lawyers warned of legal action against the press.
They broke up at one point
Shortly after the warnings were sent to the media, William and Kate broke up. According to some reports, they have made the mutual decision during their vacation as a Swiss resort. However, their breakup did not last long. Shortly after the breakup, they were seen in public a few times and they were to revive their love.
Kate's nickname was 'Waity Katie'
Thanks to their long relationship and the willingness of the world to introduce William, Kate Middleton earned the nickname "Waity Katie" in the months prior to their engagement.
They got engaged in Kenya in October 2010
Nine years after the meeting (and about three years after we had met again), Prince William finally asked the question. The two were on vacation in Kenya at the Lewa Wildlife Conservancy, and William presented Kate Princess Diana's famous blue sapphire engagement ring.
They got married on St Catherine's day
Ironically, or perhaps intentionally, Prince William married Catherine (Kate) Middleton on St. Catherine's day. The April 2011 ceremony took place in the iconic Westminster Abbey and was broadcast worldwide. After their 'I do' the newlyweds went on a carriage through the city of London and back to Buckingham Palace where they shared their first kiss on the palace balcony.
They have three children together
Just over a year after their marriage, the palace announced the first pregnancy of Kate Middleton. And in July 2013, the ordinary citizen, Prince George, gave birth to a future king of England. Three years later, in May 2015, Kate and William welcomed their first and only daughter, Princess Charlotte. And in April 2018, they completed their family with Prince Louis.
They advocate for mental health together
Kate and William work with many charities, but one of their biggest initiatives is mental health. Together with Prince Harry they founded a campaign called 'Head Together'. The three of them have talked openly about their own struggle – something that has never happened before for the royal family – hoping to remove mental health stigmas.
They live at Kensington Palace
The duke and duchess possess a handful of royal possessions. However, they call their apartment at Kensington Palace their full-time home