Once a tennis fan, always a tennis fan! The Duke and Duchess of Cambridge had a date for an adorable day, sitting in the royal midfield coffin during the last days of the men at Wimbledon on July 14, watching Novak Djokovic from Serbia defend his title against Swiss Roger Federer.
She wore a powder blue Emilia Wickstead dress and a pair of $ 80 Aldo Nicholes heels, the Duchess, 37, looked beautiful when she exchanged nice looks with her husband, 37, cheering on Federer, with whom the Middletons are friends been for a number of years. (Federer and his wife were guests at Kate's sister Pippa Middleton's wedding in 2017.) William looked neat in blue trousers with a light blue shirt, tie, gray blazer and brown shoes.
While watching the match, the duchess could sometimes not control her emotions – like any sports fan, her mouth was open at some points, she puckered her lips when Federer did not score and even covered her with both her hands during a tense moment in the game.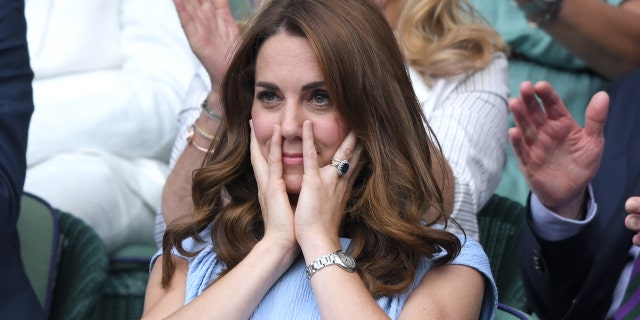 The love for tennis must run in the royal family, as Middleton revealed last week that their son Prince George was playing tennis with Federer when he visited the royal family in Norfolk. Indeed, Federer told the Daily Star that little George, who turns 6 on July 22, has a "good swing."
"At that stage it's all about touching the ball, it's the same with my boys," he told the newspaper. "He's a cute boy. I like to see them love tennis or sports."
Because Kate Middleton has long been a fan of tennis – reportedly as a child to Wimbledon and whose family also likes it (Mom Carole, Pippa, brother James Middleton and his girlfriend were all present at the Sunday game), Federer said he hoped that George would continue to practice.
"His mother has always enjoyed tennis," he said. "I hope he will stay the same in a few years and this is not just an in-the-moment situation."
Although the Cambridges certainly enjoyed the game, their three children were not far from thoughts. Middleton was graciously seen at the game with a pair of signed tennis shoes from former tennis world champion Stan Smith. 'Prince Louis' was engraved on the shoes with gold in the shoe.
We might see one of the Cambridge children in the field one day!