She is known for her sophisticated style and love for the main street – but Kate Middleton is said to be undergoing an 'edgy' makeover in an effort to appear 'young and more modern'.
According to the magazine People, the Duchess of Cambridge has made an effort in recent months to renew her wardrobe.
A source told the publication: "Kate Middleton felt she was in a bit of a rut and thought she needed a little head start.
"She has deliberately worked on making her look a bit younger and more modern, and she succeeded! She looks great and gets a lot of compliments about it."
During the weekend, the Duchess of Cambridge wore a daring clashing pink and red ensemble for the baptism of her cousin Archie's.
Channeling her inner Blair Waldorf, Kate put together a statement red satin headband with a pink pussybowlouse by Stella McCartney for the occasion.
In fact, the duchess got out in a beautiful pleated white dress from her favorite fashion house Alexander McQueen for her appearance in Wimbledon last week.
Earlier this year, the mother of the three was not afraid of breaking style rules when she visited the Henry Fawcett Children's Center in London with her purple silk Gucci blouse back.
But Kate's streamlined new style is not just for her – the magazine reports that the duchess has enlisted the help of her assistant Natasha Archer to renew her style.
The duchess stylist has reportedly returned from maternity leave and is helping the mum-of-three with her "modern" new look.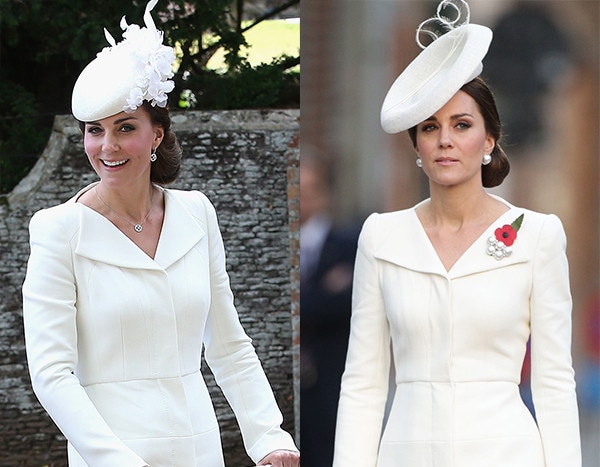 In more Royal Family news, Meghan Markle and Prince Harry want "a big family" and the public can expect a "second pregnancy announcement next year," a royal author claims.
And Kensington Palace is looking for someone to organize the "complex" royal diaries of Prince William and Kate Middleton.
Plus Meghan Markle "loves drinking, gossiping, talking about men and being a little naughty," her former friend Lizzie Cundy has claimed.